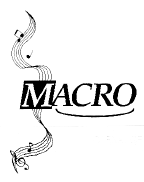 |

Dominant Seventh Chord
Progressions including the dominant seventh chord are handled in the same manner as any V chord. For macro analysis, observe the following guidelines:
For dominant seventh chords, include a "7" along with the letter name.

Example: G7

Numbers for inversions of the dominant seventh chord should be included with the roman numerals.
Remember, this analysis includes two lines. The top line is the non-traditional portion of the analysis and includes letter names and slurs. The lower line is the traditional analysis and includes roman numerals and inversion numbers. A macro analysis for a Joplin example appears below.
Joplin: "Maple Leaf Rag"